Our 5th Weekend Blog & Twitter Hop has Arrived!
Hope everyone enjoys hopping around to other blogs and finding some new blog friends.
I've connected with tons of mom bloggers and businesses through blog hops, so why not help others do the same. This blog hop will start every Friday and run throughout the weekend.
Please grab the code below to post on your blogs to help spread the word!
Thanks everyone for helping to make this hop a success. It is appreciated :)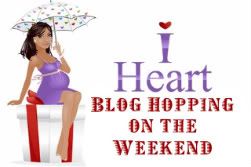 Copy and Paste Code
Rules:
-You MUST Follow the Host (Me) which I think is only fair
-You MUST Follow this week's Featured Blogger
-Leave Me a Comment so I know to Follow New Followers Back
-Family Friendly Blogs ONLY -I reserve the right to remove any blogs I feel are inappropriate
-I will choose a blog from those that enter to be a featured blogger via Random.org
-Have FUN meeting others.
This week's Featured Blog was Lucky #9 from last weeks hop:
get the InLinkz code
get the InLinkz code